Annual pension statement
The pension statement shows your value of your pension insurance and what you can get in pension from retirement age. You can also see if you have repayment cover or not.
This is your annual pension statement
Once a year you receive a pension statement from us which is a summary of all your pensions you have with us. We only write it in Swedish. On this page we explain some about what it says.
You can not transfer your pension to another country
It is not possible to transfer your pension to another country. Your pension will be managed by us until it is time for you to retire.
The value of each insurance
In the annual pension statement, you see the value of each insurance as of 31 December 2020. (Värde den 31 december 2020).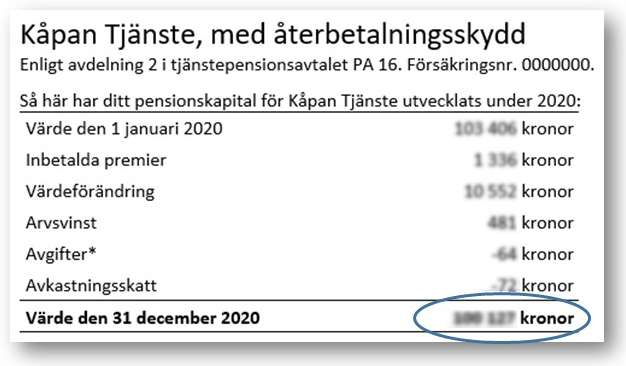 Your monthly amount – without future payments
You can also see what you can get in pension from retirement age in your pension agreement and for life. If you have already applied for a pension, the monthly amount (månadsbelopp) is reported as you applied for. The amount we show is based on the value of your insurance today and does not include any future payments. The monthly amount consists of a guaranteed amount and bonus interest that you receive in the event of a surplus on the insurance. The bonus interest can be taken back.

See if you have repayment cover
In your pensions statement you can see if you have repayment cover (med återbetalningsskydd) or if your insurance not have repayment cover (utan återbetalningsskydd). Having repayment cover means that your surviving dependents continue to receive your pension payments in the event of your death. It also means that your own pension will be lower.
"Utan återbetalningsskydd" means without repayment cover.


"Med återbetalningsskydd" means with repayment cover.

Read more about repayment cover
More information about your insurance and our investments
We also describe a bit about what applies to your insurance, and that you can read more about annual report and investments guidelines on our webbsite.
Senast uppdaterad: 2021-02-17